This program of Cementanica Usje AD gives the opportunity to the scholarship receivers to acquire advanced professional knowledge in the field of Management & Business Administration (MBA) at the prestigious faculty "Alba" in Athens.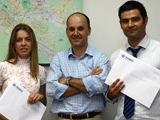 Menche Ivanovska and Zlatko Smugreski are this year's recipients of the postgraduate scholarships for an MBA granted by Cementarnica Usje AD at the University of  Alba in Athens. With the scholarship, this year's receivers get the opportunity to acquire professional knowledge and skills at this prestigious faculty, which specializes in postgraduate studies in Management & Business Administration.
The recipients of the scholarships Ivanovska and Smugreski say that this was a great chance to continue their education.
"Attending a renowned education institution, such as the faculty ALBA is a great opportunity for acquiring new knowledge and improving our performances in a highly competitive environment. ALBA's reputation is a challenge for us, and the scholarship will allow us to continue investing greatly in our capabilities," say this year's recipients.
This is the fourth generation of postgraduate students who will continue their education at this faculty with the scholarships provided by Cementarnica Usje AD. The granting of scholarships to the graduates is one of the programs of Cementarnica Usje AD for supporting and promoting the education in the country.