USJE won the first prize in the category Relations with Employees for large companies, with the project "Compensations, Benefits and Welfare of Employees" at today's ceremony of National Awards for Best Socially Responsible Practices in 2011, awarded by the Coordinating Body for CSR, as part of the Project "Corporate Social Responsibility" co-financed by the European Union and implemented by the Ministry of Economy in partnership with the Enterprise Development Foundation, the Association of Economic Chamber and the Association Konekt. This year, 59 projects from 36 companies applied on the competition for national awards.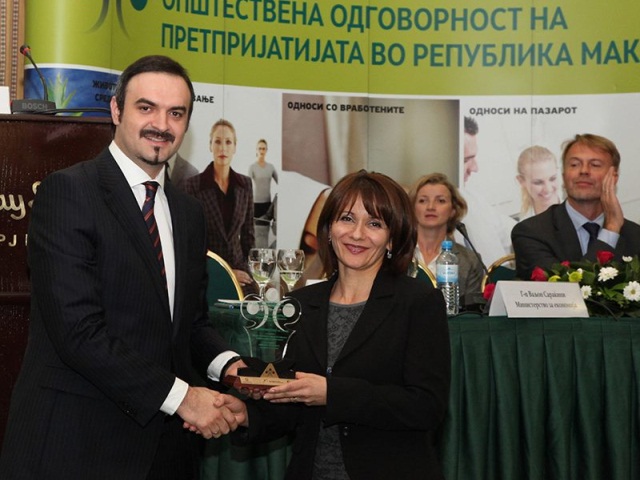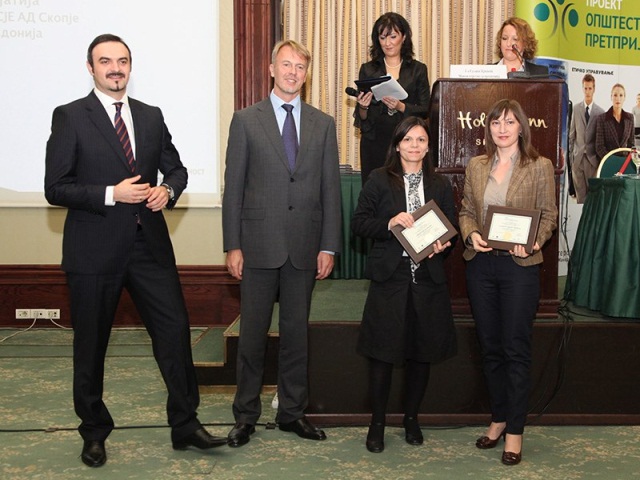 For us, our people are the most valuable asset and therefore the satisfaction and the welfare of our employees and their families is top priority of the Company.

The HR Manager of USJE, Mrs. Magdalena Slavejkova at the ceremony stated:
"The Award in the category Relations with Employees is verification but also our motivation for further efforts in the Company's commitment for social responsibility. Last year we also won the first prize in the category Environment which demonstrates that our corporate social responsibility activities embrace all segments."
In addition to the first prize, USJE won Recognition in the category Ethical Governance with the Stakeholder Engagement Project. Cementarnica USJE AD Skopje maintains communication and builds open and transparent relations with all stakeholders: employees, customers, suppliers, contractors, relevant public and academic institutions as well as non-governmental organizations. Every year, USJE communicates its progress in the field of Corporate Social Responsibility in its CSR and Sustainability Report verified by independent auditors. Moreover, the Company regularly organizes events for direct communication with all our stakeholders, and in September 2011 we held our first Open Day.

Furthermore, USJE won a special jubilee recognition for continuous implementation of best socially responsible practices.

The awards won by USJE for the third year in a row are verification of our Company's commitment and efforts in its policy for responsibility towards society and all stakeholders.