Cementarnica USJE AD Skopje won the first prize, the National CSR Award, in the category Market Relations, for the project "Customer Support". The competition National Awards for Best Socially Responsible Practices in 2012, is organized by the National Coordinating Body for CSR, supported by the European Union and implemented by the Ministry of Economy in partnership with the NGO Zenith.

This year, the sixth year as this competition is taking place, there were 43 companies from the Country, competing with 66 projects.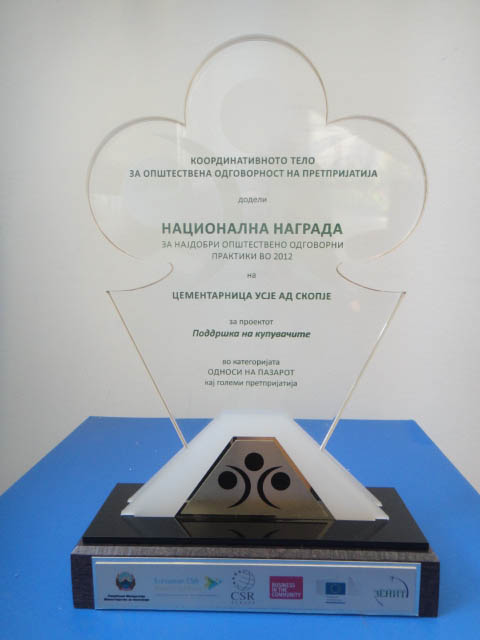 In addition to the first prize, USJE won Recognition in the category Environment with our Project Treatment of Atmospheric and Surface Waters at Cementarnica USJE.

These recognitions acknowledge our endeavors for customer satisfaction as it is among the top priorities of our Company and our corporate social responsibility policy, as well as our commitment and efforts in the protection of the environment.

These awards are verification of Usje's efforts and commitment to be a responsible corporate citizen and to contribute for the growth and the well being of all stakeholders, including our customers and suppliers, the environment, and the society as a whole.