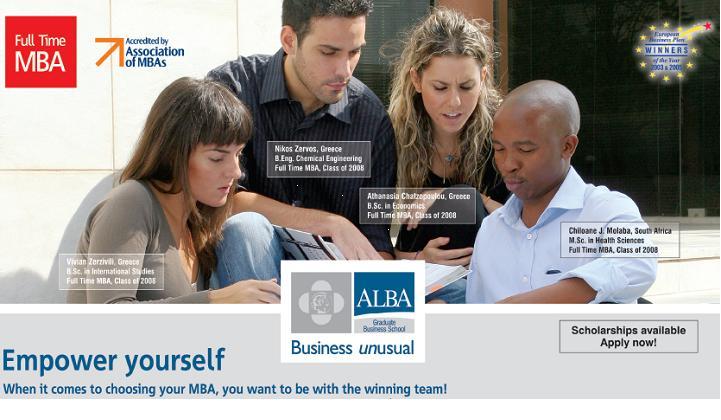 Cementarnica USJE AD Skopje offers one scholarship for the MBA program at ALBA Graduate Business School in Athens, Greece for the academic year 2011-2012. The scholarship covers fully the tuition and accommodation costs of the studies.
Basic entry criteria:
1. 1st or Upper 2nd Class Bachelors degree completed
2. Excellent command of English language (TOEFL - ALBA code 0942, minimum score 100, IELTS min. 7)
3. A minimum GMAT score of 550 is expected (ALBA MBA code 3BM-38-74)
4. Three years of work experience
Eligible applicants are requested to send their completed application package by May 1st, 2011 to: Ms Anita Stojkovska, e-mail: anitas@usje.com.mk or by mail to Cementarnica USJE AD Skopje, Boris Trajkovski bb, 1000 Skopje.
Applicants need to apply also online to the Full Time MBA or download the application form by registering at https://applications.alba.edu.gr/; ALBA Contact person: Ms Z. Kourounakou, Director of International Relations, e-mail: zkouroun@alba.edu.gr; http://www.alba.edu.gr/Academic/.

Corporate Social Responsibility has been at the core of Titan's philosophy ever since its early years and had a direct and permanent impact on its performance as a business enterprise, on its labor relations and on community involvement. According to our new approach to community involvement the Group Social Policy will be implemented in areas where the Group has knowledge and experience, the necessary conditions for adding value, including education, environment and Health & Safety in the Workplace. Within this context Cementarnica USJE AD Skopje is announcing the 7th Annual Scholarship Program for the Academic Year 2011-2012 which will provide one scholarship to top university students from Macedonia for graduate studies at ALBA Graduate Business School in Athens, Greece.