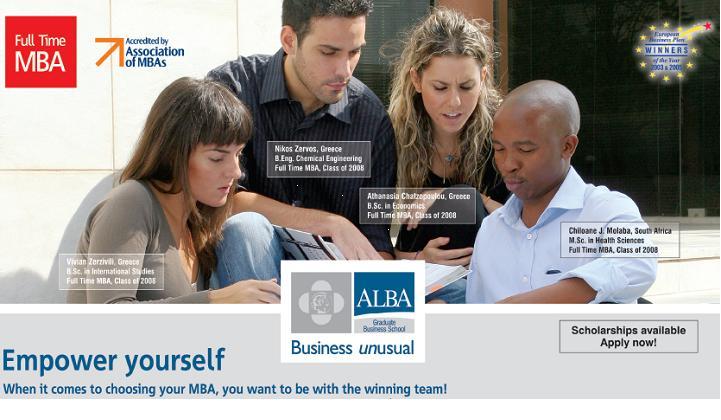 USJE Annual Scholarship Program for MBA studies abroad
The eligibility criteria are the following:
1.Macedonia Nationality
2.University degree in Economics, Mechanical or Electrical Engineering
3.Excellent Academic Performance (GPA above 8.00)
4.Competency in the English Language (TOEFL or IELTS or Proficiency)
5.Age up to 28 years
6.Working experience is not required but 2-3 years of work history will be considered favorably
Cementarnica USJE AD Skopje covers fully the tuition and accommodation costs of the studies.
Eligible applicants are requested to download the application form at https://applications.alba.edu.gr and send their completed application set (include all official supplementary documents) by 24th of May 2010 to the following address:
Cementarnica USJE AD Skopje
Human Resources/Personnel Section, "Boris Trajkovski" bb Skopje 1000
e-mail: hr@usje.com.mk
For more information please contact:
Ms. Erato Paraschaki, ALBA Director of International Development eparasch@alba.edu.gr
or visit as at: http://www.alba.edu.gr/international
Corporate Social Responsibility has been at the core of Titan's philosophy ever since its early years and had a direct and permanent impact on its performance as a business enterprise, on its labor relations and on community involvement. It is now an explicit value of Titan Group and one of our governing objectives. According to our new approach to community involvement the Group Social Policy will be implemented in areas where the Group has knowledge and experience, the necessary conditions for adding value. The three areas on which we shall be concentrating our efforts are: a) Education b) Environment, and c) Health and Safety in the Workplace. Within this context Cementarnica USJE AD Skopje is announcing the 6th Annual Scholarship Program for the Academic Year 2010-2011 which will provide one scholarship to top university students from Macedonia for graduate studies at ALBA Graduate Business School in Athens, Greece.